iCrats received Top review
iCrats Technologies received first Clutch review
At iCrats Technologies, we help businesses achieve their goals by leveraging the power of technology. We're an end-to-end IT service provider that provides web development, mobile development, CMS consulting, QA, cloud solutions, digital marketing, IT outsourcing, and more. Founded in 1999, we've become trusted by our global clients both in helping them use technologies and create new technologies. We've developed innovative processes to ensure efficiency, affordability, and positive results in our engagements.
We recently joined Clutch, and we're excited to share our first review on their platform. Clutch is the leading B2B reviews and ratings website. Headquartered in Washington, DC., they aim to connect businesses with the best agencies for their B2B needs. Their team of analysts collects clients' feedback, analyzes industry data, and compares competitors in the market to provide entrepreneurs and managers with the information they need. Beyond being a B2B company resource, Clutch also ranks service providers based on various factors, including industry experience, verified client reviews, and market presence.
The review came from an AI consulting firm. We supported their efforts of migrating their servers from Microsoft Exchange and SharePoint 2010 to Microsoft 365. The client had been using the SharePoint intranet extensively for a period of 10 years. They had quite a lot of content in the portal. In addition to it, they added lots of customization, process automation, and InfoPath forms to it since its implementation. The dependency was very high and the goal was to migrate the whole content, and the custom-developed and deprecated features. Additionally, the UI has to be modernized and responsive following their branding guidelines. One of the other objectives was to improve the user experience, user adoption, and improve user engagement. We replaced most of their Infopath forms with Power Apps, moved workflows to Microsoft 365 Flow, and moved the exchange on-premise mailboxes to online and so on. To implement the project, we deployed 8–9 resources, including a project manager, a business analyst, developers, and engineers. After we finished the migration, the client hired us for ongoing maintenance services.
We successfully migrated the client's files into Microsoft 365. The client praised our project management and communication skills, especially since they were informed ahead of time about any changes in the system. We collaborated closely with the client throughout the process, so they would be updated on our progress and challenges. "We were impressed by the intimacy of their client relations," said the COO of Intel Ahead. "I was able to see the project through a dashboard every time, so that was really good."
Due to the success of our partnership, the client gave us perfect five-star ratings across all metrics!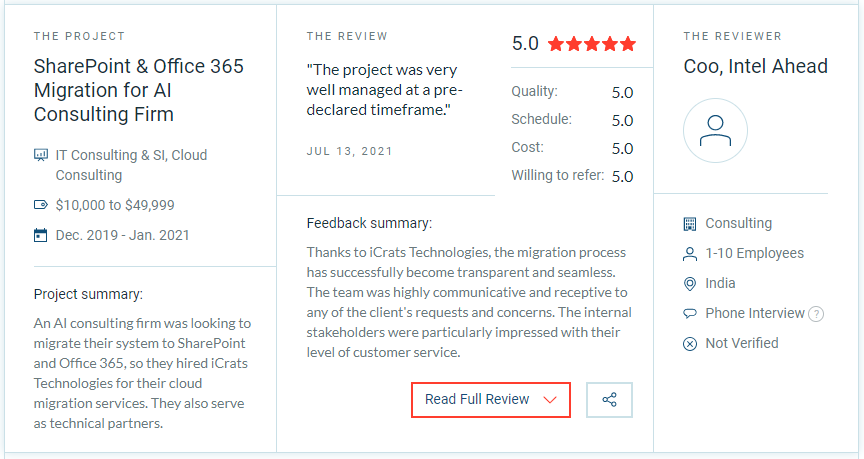 We're thrilled to announce that the Manifest has recognized our efforts and named us a Top Microsoft Consultant in India! The Manifest is a business news website that compiles and analyzes practical business wisdom for innovators, entrepreneurs, and business managers. The platform features a notable project from various service providers to showcase their industry expertise and ability to deliver. That said, we're proud to be considered as one of the leading agencies in our field!
We thank Intel Ahead for providing our first review on Clutch! We appreciate their detailed and honest feedback about our work, which has been insightful for our team. Their positive review speaks to our commitment to our clients' long-term success. Like Intel Ahead, we hope our current and past clients will share their experience of working with us through Clutch!
Do you have any IT projects in mind? Contact us today, and let's discuss the many ways we can help.